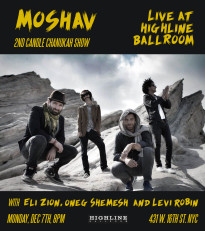 Moshav will be back at the Highline Ballroom performing this Chanukah, December 7th. To celebrate, we are launching a raffle to win two free tickets! Simply share the flier below and tag @moshavband / #moshav in your status and you will be entered for a chance to win tickets for you and a friend!
Scroll down for a list of other Chanukah shows including performances in Baltimore, Philly, San Antonio, Sarasota, Los Angeles and New York.
—————————————————————————————————————————————–
<> MOSHAV LIVE THIS CHANUKAH NEAR YOU!
12/06/15 // Sarasota, FL
INFO & TICKETS
12/07/15 // Manhattan, NY
Highline Ballroom
BUY TICKETS
12/08/15 // Baltimore, MD
Anshe Emunah, All Ages
BUY TICKETS
12/09/15 // Philadelphia, PA
The Chevra All Ages
BUY TICKETS
12/12/15 // Los Angeles, CA
Social Dashboard as part of the
11th Sephardic Music Festival.
12/13/15 // San Antonio, TX
San Antonio, TX All Ages
Additional info on our Events page.