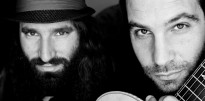 Catch us Live in New York tomorrow at the Carlebach Shull, followed by our show in Philly at World Cafe Live the next night and then back to NY at Brooklyn College on Thursday!
All ticket and show info could be found on our tour page.
If you haven't checked out our Indiegogo campaign, watch it and be a part of it, here.
– much love, Moshav